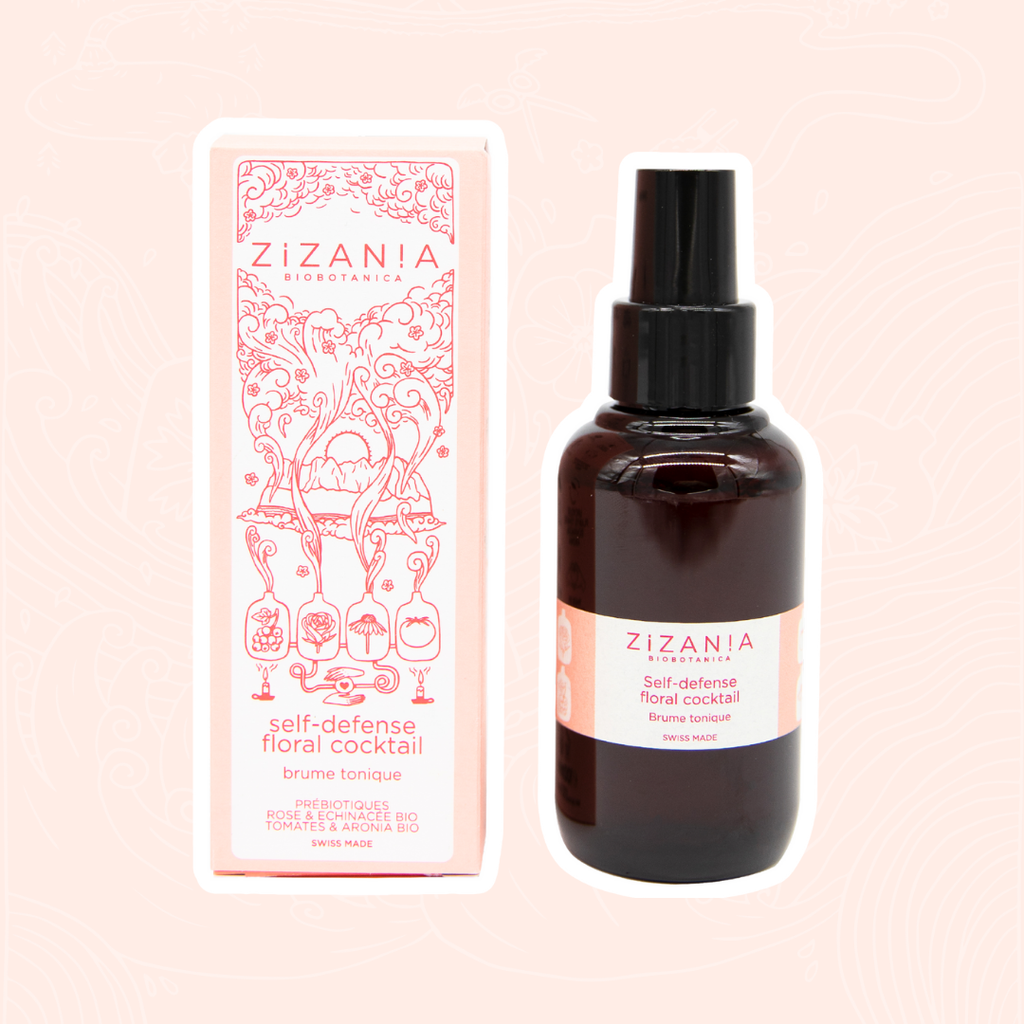 Self-defense floral cocktail - Tonic Sprühnebel 100ml
Ein erfrischender Tonic-Spray für alle Hauttypen, die sich nach Gleichgewicht, Schutz und Ausstrahlung sehnen.
Der berühmte "Glow", die gesunde, leuchtende Haut, die wir uns alle wünschen, ist nur einen Sprühnebel entfernt!
99.4 % der Inhaltsstoffe sind natürlichen Ursprungs, 53.2 % aus biologischem Anbau.
---
Farm to Face, natural and organic
---
Share this product:
Unser erfrischendes Tonic ist ein wahrer Superfood-Cocktail, reich an Antioxidantien, beruhigend und reinigend, unter anderem Rose und Tomate aus unseren Bio-Gärten, mit ihren entgiftenden Eigenschaften.
Das gewisse Extra: Präbiotika stellen die Hautflora wieder her, balancieren sie aus und stärken sie. Dezent und natürlich duftend mit Rosen- und Tomatenwasser. Für Sie und Ihn.
Unser Tonic Sprühnebel befördert Euch direkt in unsere Pflanzenwelt und wirkt als Schutzschild für die Haut und die Hautflora.
99.4% natural ingredients, 53.2% organic.


Highly infused: made up of almost 50% aloe vera and rose juice
  
VEGAN (nach europäischen und schweizerischen Vorschriften nicht an Tieren getestet und enthält keine Inhaltsstoffe tierischen Ursprungs).
 
Ingredient grown from our gardens: tomato water. 
Ingredient used in the agro-food industry: plum oil. 
Ingredient used by florists: echinacea.
 
98% recycled PET, and recyclable. Paper label, recyclable FSC cardboard case.
 
Developed and produced in Switzerland, a local partner, by workers with disabilities.
Ingredients:
Bio-Rosenwasser mit antioxidativen und adstringierenden Eigenschaften, schützt vor äusseren Schadstoffen. 
Das Bio-Tomatenwasser wird aus unseren Bio-Gärten recycelt. Nach der Samenernte verarbeiten wir das Fruchtfleisch zu kosmetischem Tomatenwasser, das reich an antioxidativen Lycopen ist, die der Lichtalterung vorbeugen.
Präbiotika erhalten das Ökosystem der Haut und optimieren die Wiederherstellung der wohltuenden Hautflora. Sie schützen und stimulieren die Hautflora und stärken die Hautbarriere: Die Haut gewinnt ihr Gleichgewicht zurück.
Bio-Aroniabeeren (Apfelbeeren) sind bekannt für ihre antioxidativen, antimikrobiellen und antiviralen Eigenschaften. Dieser Pflanzenextrakt stammt von aufgewerteten Aroniabeeren aus der Lebensmittelindustrie, wo sie für Konfitüren und Säfte verwendet werden.
Bio-Echinacea ist eine der bekanntesten Heilpflanzen zur Stärkung des Immunsystems. Der rote Sonnenhut wird für seine Anti-Aging-, regenerierenden und reinigenden Eigenschaften verwendet. Der Extrakt stammt von Pflanzen, die von Blumengeschäften recycelt wurden.

Bio Aloe vera ist bekannt für ihre feuchtigkeitsspendenden, heilenden und entzündungshemmenden Eigenschaften



Ingredients
Function

Aloe Barbadensis Leaf Water* - Aloe vera juice 

Aqua - Water

Solanum Lycopersicum (Tomato) Fruit Water* - Tomato pulp water

Rosa Damascena Flower Water*  

Glycerine

Alpha-Glucan Oligosaccharide - Prebiotic (sugar-derived)

Sodium Levulinate

Sodium Benzoate

Potassium Sorbate

Citric Acid

Phytic Acid

Sodium Hydroxide 

Aronia Melanocarpa Fruit Extract* - Chokeberry extract

Echinacea Purpurea Extract* - Echinacea extract

Rosewater extraction substance and support 

Solvent

Fruit water 

Flower water

Vegetable-origin humectant

Substance

Preservative, from starch


Preservative

Preservative

pH stabiliser 

Binding agent 

pH stabiliser

Substance


Substance
INCI : Aloe Barbadensis Leaf Water*, Aqua, Solanum Lycopersicum Fruit Water*, Rosa Damascena Flower Water*, Glycerin, Alpha-Glucan Oligosaccharide, Sodium Levulinate, Sodium Benzoate, Potassium Sorbate, Citric Acid, Phytic Acid, Sodium Hydroxide, Aronia Melanocarpa Fruit Extract*, Echinacea Purpurea Extract*
*From organic agriculture
Der Tonic Sprühnebel Self Defense Cocktail Mist ist die Express-Geste, die Sie in Ihre Morgen- und Abendroutine integrieren können. Morgens für einen Frischehauch auf der Haut, abends zur Vollendung des Abschminkens, oder nach der Reinigung mit Wasser, um Kalkreste zu entfernen und das Austrocknen der Haut zu verhindern.
15cm vom Gesicht entfernt bei geschlossenen Augen aufsprühen und an der Luft trocknen lassen.
This is a preview of the recently viewed products by the user.
Once the user has seen at least one product this snippet will be visible.
Recently viewed Products