Self-defence floral cocktail - Mist toner 100ml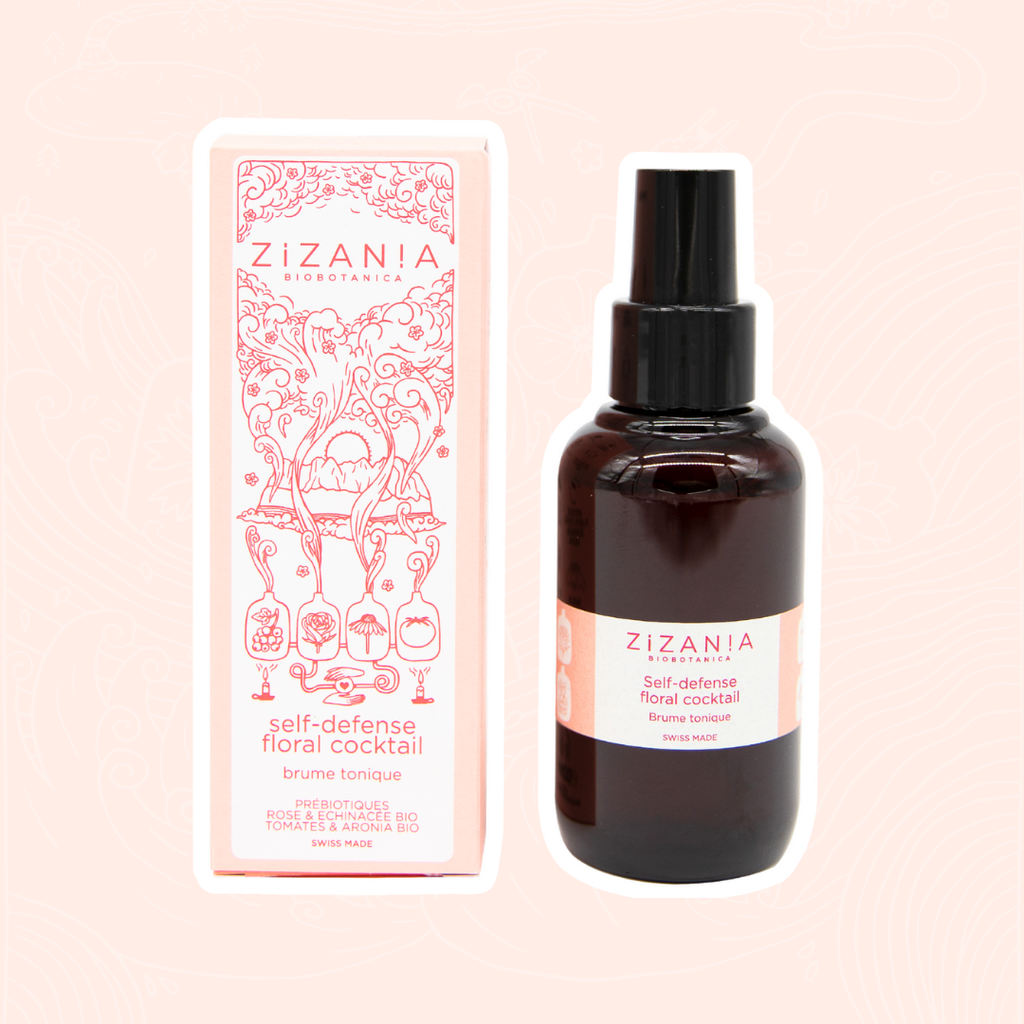 Self-defence floral cocktail - Mist toner 100ml
---
Our refreshing spray, for all kinds of skin in need of balance, protection, and radiance. The famous "glow" is something every woman longs for and this mist toner makes it possible!
---
A true cocktail of superfoods 
Our tonic mist is a true cocktail of "superfoods," which is soothing, purifying, and rich in antioxidants. It includes rose and tomato from our organic gardens, which help to cleanse your skin. The prebiotics also help restore balance to your skin's microbiome, giving this toner that little extra touch. Wonderfully subtle and natural scents of rose water and tomato water. Suitable for men and women.
This mist toner will wake up and revitalise your skin, and act like a shield for the skin and skin flora.
99.4% natural ingredients, 53.2% organic.

INGREDIENTS : Aloe Barbadensis Leaf Water*, Aqua, Solanum Lycopersicum Fruit Water*, Rosa Damascena Flower Water*, Glycerin, Alpha-Glucan Oligosaccharide, Sodium Levulinate, Sodium Benzoate, Potassium Sorbate, Citric Acid, Phytic Acid, Sodium Hydroxide, Aronia Melanocarpa Fruit Extract*, Echinacea Purpurea Extract*
*From organic agriculture

What's in it
Organic rose water with antioxidant and astringent properties, which helps protect against external aggression. 
Organic tomato water is recycled from our organic gardens. After harvesting our seeds, we transform the pulp into cosmetic tomato water, rich in an antioxidant called Lycopene, which prevents photoaging.
Prebiotics preserve the skin's ecosystem, protect and stimulate the microbiome, and strengthen the skin barrier, which allows the skin to regain its balance.
Organic Aronia berries are known for their antioxidant, antimicrobial and anti-viral properties. This plant extract is used in the agro-food industry, in particular, to make jams and juices.
Organic Echinacea purpurea (purple coneflower) is one of the most well-known medicinal plants to strengthen the immune system. It is used for its anti-aging, regenerating and purifying virtues. This extract comes from florists' recycled plants.
Organic aloe vera is known for its moisturising, healing, and anti-inflammatory properties.



Highly infused: made up of almost 50% aloe vera and rose juice
  
VEGAN (not tested on animals according to European and Swiss regulations and does not contain animal products of any kind)
 
Ingredient grown from our gardens: tomato water. 
Ingredient used in the agro-food industry: plum oil. 
Ingredient used by florists: echinacea.
 
98% recycled PET, and recyclable. Paper label, recyclable FSC cardboard case.
 
Developed and produced in Switzerland, a local partner, by workers with disabilities.